About the Course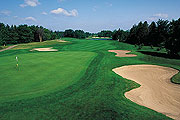 Known as a fair test of golf skills for any golfer, Pine Meadow also has such picturesque beauty with its fairways lined with towering blue spruce, pines as well as wild life, that it is easy for a player to forget they're here to play golf.
Rated the No. 1 best "new public golf course in America" by Golf Digest in 1986, it continues to be ranked among the top 10 public access courses in Illinois.
While the Pine Meadow Golf Club course is nationally known, so to is its learning center and practice facility. The learning center and practice facility is considered the best of its kind in Northern Illinois. It is not unusual to see a PGA/LPGA Tour player taking advantage of the facility when in town.
Our facility features grass tees or mats, bunkers, chipping and pitching greens. All this is complimented by a state of the art fitting center.
What really separates our learning center and practice facility apart from the rest is the instructional staff and master club fitter. The blending of the teaching and fitting facility is an excellent example of what Pine Meadow Golf Club is all about, the total integration of the golfers' game and equipment.
Pine Meadow has seven sets of tees from 7238 to 5272 yards to accommodate players of all skill levels. The course has 35 acres of fairways, 86 sand and 3 grass bunkers, and 220,000 square feet of tees and greens. 250-year old oak trees, 60-foot tall pines, maples and shagbark hickory trees border fairways.
The staff of Pine Meadow invites everyone to use our facilities and to experience the difference one of our instructors can make in the quality of your golf game.
Dennis L. Johnsen, PGA
Club Manager, Director of Golf